Manufacturers
American companies quickly jumped at the opportunity to sell thermal foggers to police departments.
Sears Roebuck
The original Mighty Mite that established the fogger as a method of chemical dispersal was manufactured by a domestic company (Sears Roebuck) for insecticide application (Applegate 1969).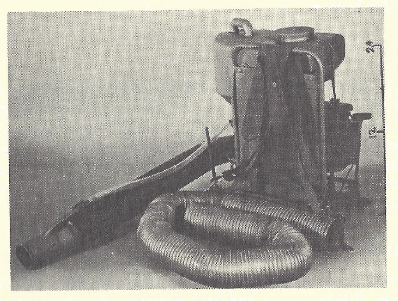 The International Association of Chiefs of Police included this style of thermal fogger in their 1969 Chemical Agents Manual (Crockett 1969), providing a trade-focused marketing opportunity. The bulkiness of the backpack proved to be a hinderance in mobile application, however, and there was an immediate push by existing corporations to produce a specialized tool for fogging chemical weapons at civilians (Applegate 1969, 1970).
General Ordnance Equipment Corporation
The General Ordnance Equipment Corporation (GOEC), who developed and trademarked Chemical Mace the year prior, began marketing a hand-held thermal fogger using the phrase "Pepper Fog" in July 1968 on their (Applegate 1969). They and applied for a trademark on the phrase in October of the same year (USTPO 2018). By the end of August 1969, GOEC had received the trademark on "Pepper Fog", which they (and their subsequent owners including Smith and Wesson, Federal Laboratories, and Safariland) retained until it expired in 1991 (USTPO 2018).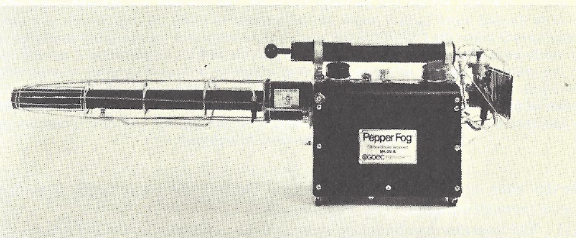 They immediately began a heavy marketing campaign taking out full-page ads in police magazines that year (General Ordnance Equipment Corporation 1969a, 1969c, 1970).
Federal Laboratories & Defense Technology
Indeed, to this day, the current owner of the legacy branding (Safariland subsidiary Defense Technology) continues to sell items under a "Pepper Fog" line, including a "pepper fog generator" that utilizes the same pulse-jet generation technique (Safariland, LLC 2020a):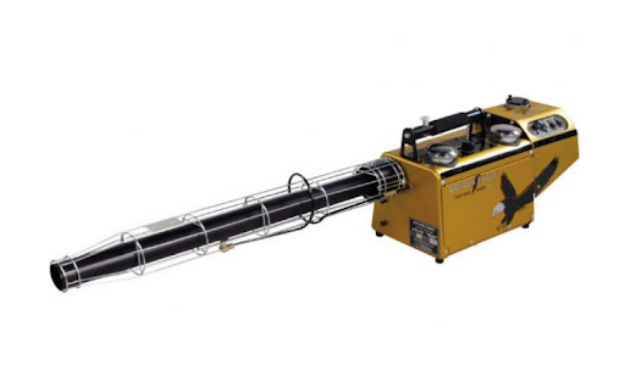 This has supplanted the model produced by the corporate ancestor to Defense Technology (Federal Laboratories), which was a slightly bulkier version (Samuels, Egner, and Campbell 1969).