5.1

Expansion from the Nexuses
5.1.1

Illinois

In the wake of the 1968 Democratic National Convention, Chicago-area police played an outsized role in promoting the propaganda line. The pepper fogger was touted as being able to "empty a house fast" by Cook County Illinois Sheriff Joseph Woods (Harris 1969b, 1969c), a definitely off-spec and dangerous use (Nixalite 2009a). The volume of fog emitted was also said to be able to fill Soldier Field (capacity 61,500 fans) in under a minute (Harris 1969c). Regardless, the Chicago-area Sheriff decided they needed three of them (Harris 1969c). The Sheriff's Major in charge of chemical arsenal Anthony Yucevicius noted the fogger's psychological effect on recipients, as well saying
They make a terrifying noise and probably will have a scare effect on crowds.

— Harris (1969a).
Use expanded among and within states, as by 1972 the Illinois State Police also purchased three foggers, which they trained with in Springfield (Robinson 1972). In news reports, the foggers were described as
a cross between a machine gun, a power lawn mower, and a sun lamp.

— Robinson (1972).
5.1.2

Florida

Similarly, following the 1968 Republican National Convention, Florida law enforcement took to the fogger (Cain 1968). In Sanford (1970 pop. 17,393; USCB (1971)), the local police department purchased a fogger for use with CN gas, noting that it could shoot fog 20 ft for up to a 15 minute stretch, and so would be effective for controlling large masses (Cain 1968). They had, however, only used it in training and for demoing to the media (Cain 1968).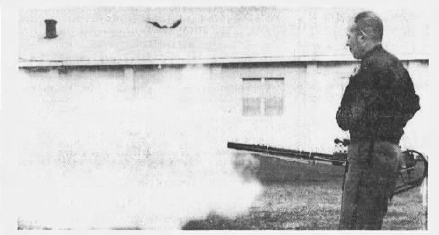 5.1.3

California

Eager to not be shown up by the police in Berkeley, by 1970, the Los Angeles Sheriff's Department had already purchased their own fogger for their "big artillery" to use "when other forms of persuasion have failed" and started a media campaign (Michals 1970). The department and new state regulations required officers to be trained in chemical weapons use, which was set up through Officer Robert Hawkins (Michals 1970).