Berkeley
February 21 1969
A year after using the fogger on a protest held in solidarity with the Chicago Protest, police in Berkeley again deployed a fogger to clear demonstrators including striking students from outside a University Regents and Sproul Hall plaza on the University of California campus.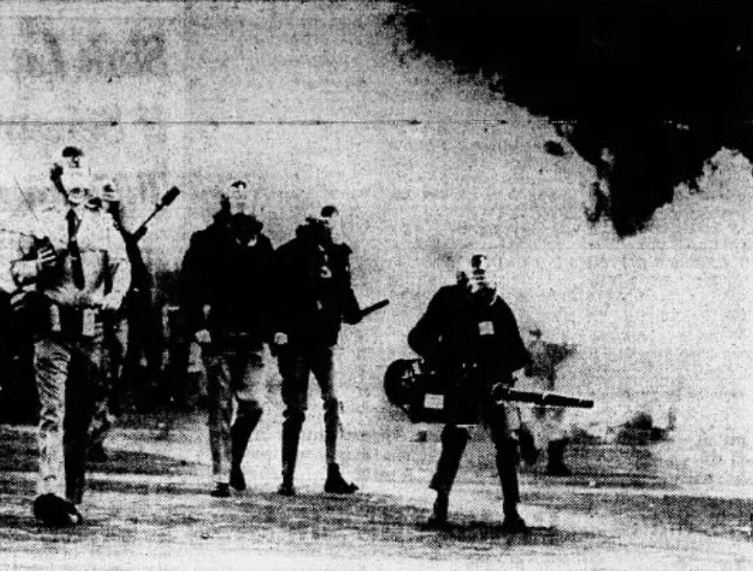 This deployment was covered in papers across the country including the Press-Telegram (Long Beach, California) (Associated Press 1969k), The Jackson Sun (Jackson, Tennessee) (Associated Press 1969g), The Daily Tribune (Wisconsin Rapids, Wisconsin) (Associated Press 1969f), The Sumter Daily Item (Sumter, South Carolina) (Associated Press 1969h), The New Mexican (Santa Fe, New Mexico) (Associated Press 1969i), Janesville Daily Gazette (Janesville, Wisconsin) (Associated Press 1969l), and Messenger-Inquirer (Owensboro, Kentucky) (Associated Press 1969m).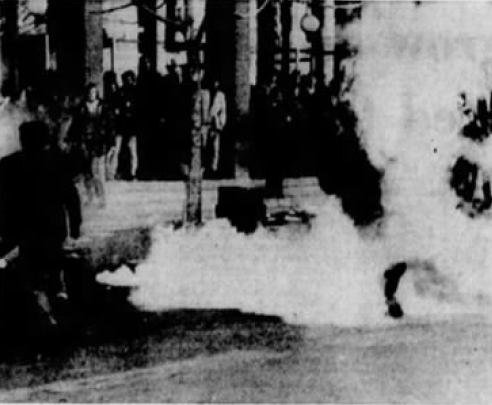 Canadian newspapers detailed the fogger use as well, specifically the Red Deer Advocate Red Deer, Alberta, Canada) (Associated Press 1969j) and The Leader-Post (Regina, Saskatchewan) (Associated Press 1969e).
February 28 1969
The following week, the police in Berkeley were joined by California National Guard troops to attack strikers, and continued to use the pepper fogger (Associated Press 1969a, 1969b).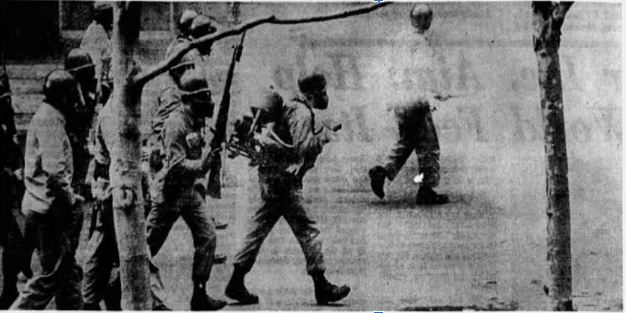 May 15 1969
Alameda County sheriffs deployed a pepper fogger on UC Berkeley's campus again during the "People's Park Riots" of 1969 (Los Angeles Times 1969; Hayes 1970).
The riot apparently started when the university tried to prevent individuals living on the street from a volunteer-run park they built on a lot owned by the school (United Press International 1970).